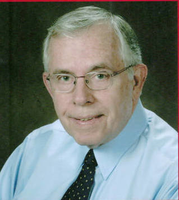 Robert Adam Bloss
Robert Adam "Bob" Bloss, 82, of Plymouth Twp., PA passed away on Sunday, April 15, 2018 with his loving family at his side.
He was born on August 29, 1935, the son of the late Bernard Bloss and Ellen (Adam) Bloss.
Bob was born and raised in Erie, PA, and has been a resident of Plymouth Township since 1964. He was a devoted member of Trinity Lutheran Church of Fairview Village, PA.
Bob was a graduate of Temple University and after earning his degree was a broadcasting pioneer at WHYY in Wilmington, DE. He then became a Sports Writer for the Times Herald, followed by a long career as a Merchandising Manager for TV Guide Magazine. Bob was a freelance baseball journalist who began his writing career in 1960. His voice was also well known on the Montgomery County high school football circuit. He has played the role of announcer as well as reporter and is a member of the Philadelphia Sports Writers Association and SABR, the Society of American Baseball Research. Bob admittedly, "Once a slow, second-string high school outfielder in Erie, PA, who could hit a curve ball only when he knew it was coming – and then not very far.", then chronicled baseball and baseball managing. He is the author of "Baseball Managers" and "Rookies of the Year".
Bob was the beloved husband of the late Floriana (Manno) Bloss.
Survivors include his two daughters, Connie Bloss of Hummelstown, PA, and Linda Bloss-Baum ( & Richard) of Falls Church, VA; two grandchildren, Alexandra and Matthew Bloss-Baum; and two sisters, Nancy (& J. Neal) Perrine of Avon, OH, and Betty (& Thomas) Sementelli of East Petersburg, PA.
Relatives and friends are invited to the visitation Friday, April 20, 2018, 10:00 AM to 11:45AM at Trinity Lutheran Church, 1190 Valley Forge Road, Norristown, PA 19403. His Funeral Service will follow at 12 Noon.
Interment will be private in Zion Evangelical Lutheran Church Cemetery, East Petersburg, PA.
In lieu of flowers, Bob's family would appreciate contributions made in his memory to: The Montgomery County Coaches Hall of Fame, 803 Northview Blvd., Norristown, PA 19401 www.mcchof.org